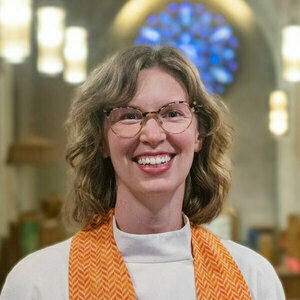 Rev. Rachel Ann Dupont
Co-Host of Asbury First UMC
The Rev. Rachel Ann Dupont is excited to be joining the ministry team at Asbury First. Trained in Spiritual Direction, Congregational Formation, and New Faith Community Development, Rachel is passionate about guiding individuals, groups, and congregations in discerning and living out God's unique call on their lives. She believes Christian Formation is all about living our professed values of love and grace, which transforms the world!
Baptized as a baby in the United Methodist Church, Rachel has never left. Rachel has lived her whole life in New York State and loves to explore this beautiful place with her family. She is a partner, a parent, a pastor, and a friend. She loves good food, fresh air, and reading memoirs.
Rev. Dupont is an ordained elder in the Upper New York Annual Conference, where she serves as the Coordinator for Annual Conference Worship, and as a delegate to General Conference. She has served as the pastor of four churches in Upper New York, as well as on the Oneonta District as a New Ministry Cultivator, and carries a high level of connectional and community participation. Rachel earned her M. Div from Union Theological Seminary in the City of New York in 2010.
Rev. Rachel Ann Dupont has hosted 13 Episodes.